Private Life
Bert Weedon was born in East Ham, London. on May 10th 1920. The youngest son of Bert and Elizabeth Weedon. His brother Maurice was a semi professional musician, but made his living in the Newspaper world. Bert has two sons, Geoff (by his first marriage) and Lionel, eight grandchildren and one great-grandson. He lives in Buckinghamshire with his wife Maggie, and his principal hobbies are playing the Guitar, swimming, and motoring.

Bert wanted to play the guitar from his very early childhood. When he was just twelve years old he persuaded his father to buy him a rather battered guitar off a stall in London's famous Petticoat Lane Street Market, for exactly 75p. And so began the career of one of Britain's most accomplished instrumental stars.
When he got his guitar home from the market he thought with all the confidence of a twelve year old that he would be able to play it, but to his surprise the sound that came from his first strumming were sadly lacking in harmony! He searched around for a teacher, and in those days there were very few, and finally found an elderly man (James Newell) who said he would teach Bert, but classical guitar only. This was a disappointment, but when Newell sat down and played a Chopin Prelude, it opened a fantastic new world of music to the kid from London's East End, and Bert right away decided that the study of the guitar would be his life's work.

Here Bert is pictured 14 years old with one of his first guitars - a great love that was never to fade.

He gets an enormous fan mail from guitarists, and his advice is "Practice hard all the time, study music and technique and when you play, even a scale, put everything you have into it". Bert claims his favourite pastime is playing the guitar, and feels that he is a very lucky man because his work is his pleasure. Little wonder that when the Shadows wrote and dedicated a number for Bert, they called it simply "Mr Guitar" - certainly an apt title for Britain's top solo guitar star - Bert Weedon, the man who has become the living legend of the Guitar.


The Big Bands
Bert's early classical training later proved a great asset, since his thorough grounding enabled him to play any form of music at sight - jazz, beat, ballads, dance music, classical and even Spanish flamenco style.
His early days in show business found him playing with all the top bands of the day, including Ted Heath, Mantovani, The Squadronnaires and many others. His extreme versatility acted as a stepping stone to a plum role as a featured soloist with the BBC Show Band show, which meant broadcasting three times a week in the country's top pop music show, and this lasted for four years.

Tribute
Thames TV did a "This is your Life" on Bert Weedon. Among the people paying tribute to Bert were ;- Eric Clapton, Brian May, Hank Marvin, Phil Collins, Adam Faith, Val Doonican, Joe Brown, Lonnie Donegan, Marty Wilde, Frank Bruno, Henry Cooper, Paul Daniels, Gloria Hunniford, Basil Brush and many other stars from the world of show-business.
The Variety Club of Great Britain held a Tribute Lunch for Bert in Bournemouth (May 1999) Celebrities included Max Bygraves, Brian May, Anita Harris, John Inman, Paul Daniels, Gordon Kaye, Julie Rogers, Susan Maughan, Russ Conway to mention just a few of the friends who wanted to pay their respects to Bert.

The First Records
As a result of his exciting solos on the early rock records. Bert was asked by Top Rank to make a record as a solo artist, and so Bert became the first British guitarist to get a solo record in the Hit Parade - the memorable "Guitar Boogie Shuffle". He subsequently notched further hits with "Apache". "Nashville Boogie". "Ginchy". "Sorry Robbie" "Tokyo Melody". to mention but a few. His L.P. `s have sold in tremendous numbers; "Bert Weedon remembers Jim Reeves" sold over 250,000 while his "22 Golden Guitar Greats" L.P. reached the No 1 spot in the Album Charts, and he once again made disc history by becoming the first solo guitarist to reach the coveted top of the Hit Parade - receiving both Gold and Platinum L.P.'s for his record breaking sales of over one million copies. The tremendous success of his L.P.'s and C.D's ensures that Bert is still among the top recording artists of Britain.

Rock and Roll
With the coming of rock and roll, Bert was soon in great demand as the named soloist on no end of hit records, and his playing greatly aided the success on records of many of the foremost stars of the period. Early rock singers such as Tommy Steele, Marty Wild, Laurie London, Cliff Richard, Adam Faith and Billy Fury all asked for Bert to play on their records. His virtuosity in all fields of music also enabled him to accompany such artists as Frank Sinatra, Tony Bennett, Rosemary Clooney, Nat King Cole, Judy Garland and many top British stars, while at the other end of the music scale he played for Gigli, Paul Robeson and many others.

The Live Shows
Bert has also been extremely busy playing concert tours throughout the country, and has emerged as one of Britain's leading pop music box office attractions. Apart from concerts at the Albert Hall, he appears regularly in cabaret at all the top Clubs and Hotels, and he regularly stars in large theatrical productions up and down the country at all the top theatres, including the London Palladium, the Victoria Palace, London, and Manchester Opera House, and every top summer season theatre in Britain. He has also been featured as the star cabaret on many of the top Cruise Liners Including the QE2, The Canberra, and the Sagafjord. Bert is currently busy touring in his one man show, and recording a new CD.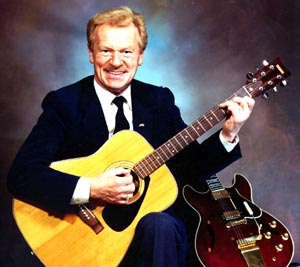 Broadcasting
On TV and Radio his popularity soars, and it is no exaggeration to say that he ranks among the most broadcast artist in the country, He has appeared in over 5,000 radio and TV shows.
On nine occasions, Bert has been voted Britain's top Guitarist in National popularity polls, and he now owns 11 guitars, six of them specially made for him including one that is gold plated.
His fame has spread abroad and he has toured extensively doing T V, concerts and cabaret dates in Europe, Africa, New Zealand, etc.
Click here to read what people have said about Bert.